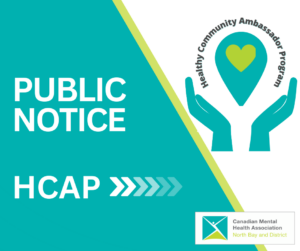 (North Bay, ON  Nov. 16, 2023) – With the successful opening of a new downtown warming centre and availability of similar supports from other agencies, CMHA North Bay and District is redirecting resources from its street outreach program in order to meet the increasing demand for core mental health services for individuals in our area. 
As a result, the Healthy Community Ambassador Program (HCAP) is winding down and will be discontinued as of Thursday, Nov. 30, 2023. 
Clients currently receiving HCAP services will be provided with referrals to alternative supports and offered the opportunity to continue receiving case management services through CMHA North Bay and District. 
"HCAP has played a crucial role in supporting individuals experiencing homelessness in the downtown area or living in encampments and, more recently, through the twice-a-week drop-in hours offering showers, nutrition, clothing, and other supports," said CEO Mary Davis. "I would like to take this opportunity to extend my sincere gratitude to our outreach team for their vital contributions over the past four years."  
About Canadian Mental Health Association, North Bay and District 
A not-for-profit charitable organization, Canadian Mental Health Association, North Bay and District is this area's leading provider of community mental health, addiction, and peer support services. We are affiliated with a network of CMHA branches across Ontario and CMHA's provincial division and are governed by a volunteer board of directors. Our mission is to promote wellness and empower individuals to achieve their full potential by providing collaborative supports and advocacy. 
Media contact:  
Carla Ammerata, Director of Communications 
Canadian Mental Health Association, North Bay and District 
cammerata@nbd.cmha.ca 
249-591-1775