Coordinated Access Nipissing (CAN) is a shift in the way that community agencies support people who are homeless or at-risk of becoming homeless.
Individuals and families can call or visit any of the agencies listed below for more information on referrals, supports, and services to help them find or keep their home. You will be asked to complete a Common Intake and Consent form, and may be asked for further information to support your housing journey. People who are currently homeless can choose to add their name to the By-Name List (BNL). The By-Name List (BNL) is a registry of everyone who is homeless in the District of Nipissing. This list is used to assess individuals and households based on their current situation.
As services, supports, and housing options become available individuals and households will be matched based on their needs and overall eligibility.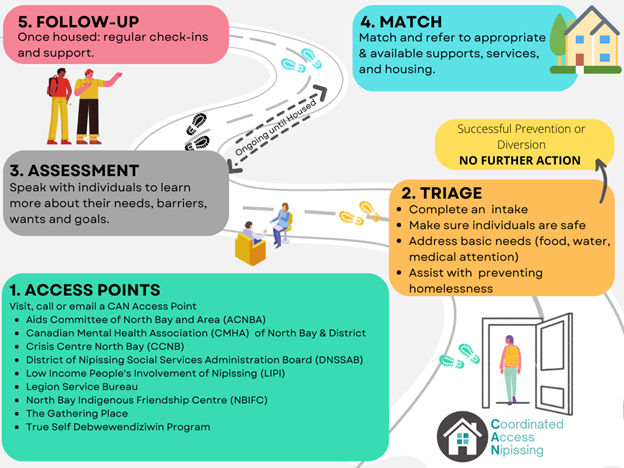 Coordinated Access Nipissing (CAN) Access Points
Crisis Centre North Bay – Emergency Shelter | 705-474-1031 | www.crisiscentre-nb.on.ca
Crisis Centre North Bay Low Barrier Shelter | 705-358-5901 | www.crisiscentre-nb.on.ca
AIDS Committee North Bay and Area (ACNBA) | 705-497-3560 | www.aidsnorthbay.ca
District of Nipissing Social Services Administration Board (DNSSAB) Housing Programs | 705-474-2151 | www.dnssab.ca
Legion Services Bureau | 705-472-8650 | www.on.legion.ca
Low Income People Involvement of Nipissing | 705-472-1337 | www.lipinipissing.com
Nipissing First Nation True Self Debwewendizwin Program | 705-474-4058 | www.trueself.ca
North Bay Indigenous Friendship Centre | 705-472-2811 | www.nbifc.org
The Gathering Place North Bay | 705-474-7687 | www.thegatheringplacenorthbay.ca