The first full week of October invites Canadians to share the realities of living with mental health issues through Mental Illness Awareness Week (MIAW).
MIAW is an annual national public education campaign coordinated by the Canadian Alliance on Mental Illness and Mental Health (CAMIMH). The campaign aims to engage Canadians in a national conversation about mental illness and provide insight into the services and supports available.
The pandemic has brought on new challenges and highlighted existing struggles that Canadians face. A survey by CMHA Ontario showed that nearly half (48 per cent) of Ontarians say their mental health has worsened over the past two years. Substance use among Ontarians has also increased, and one in four people (24 per cent) have sought help for their mental health challenges since the pandemic began.
Access to services and community support play a big part in the way people experience mental illnesses. As a member of CAMIMH, CMHA supports the vision of a Canada where everyone has timely access to mental health programs, services and supports without barriers. Visit the CAMIMH website for more information on the MIAW campaign.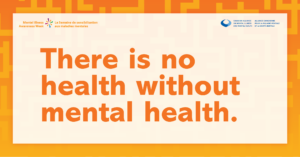 La première semaine complète d'octobre, dans le cadre de la Semaine de sensibilisation aux maladies mentales (SSMM), les Canadiens sont invités à témoigner des réalités que vivent les personnes qui ont des problèmes de santé mentale.
La SSMM est une campagne nationale annuelle d'éducation publique coordonnée par l'Alliance canadienne pour la maladie mentale et la santé mentale (ACMMSM). Cette campagne a pour but d'inviter les Canadiens à participer à une conversation nationale sur les maladies mentales et à communiquer de l'information sur les services et les ressources accessibles.
La pandémie a fait surgir de nouveaux défis et a mis en lumière les difficultés auxquelles les Canadiens sont actuellement confrontés. Un sondage de l'ACSM Ontario a révélé que près de la moitié (48 %) des Ontariens affirment que leur santé mentale s'est détériorée au cours des deux dernières années. La consommation de substances chez les Ontariens a également augmenté, et une personne sur quatre (24 %) a demandé de l'aide pour ses problèmes de santé mentale depuis le début de la pandémie.
L'accès à des services et à un soutien communautaire joue un rôle important dans le vécu des personnes atteintes de maladies mentales. En tant que membre de l'ACMMSM, l'ACSM appuie la vision d'un Canada où tout le monde a accès sans obstacles, en temps opportun, à des programmes, des services et des ressources en santé mentale. Visitez le site Web de l'ACMMSM pour obtenir de plus amples renseignements sur la campagne de la SSMM.