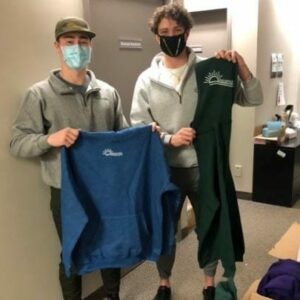 Bay Apparel, a local clothing company that celebrates North Bay's natural beauty and outdoor lifestyle, is giving back to the community with a donation to Nipissing Mental Health Housing and Support Services.
Bay Apparel recently donated approximately 90 hoodies which will be distributed through the agency's downtown outreach and emergency shelter programs.
Kobe Seguin and Adam Kennedy, both 19, launched the business this past summer and have since sold out two limited edition clothing "drops" or collections for Fall and Winter.
"We are grateful to Kobe and Adam for their efforts to help vulnerable people through our Healthy Community Ambassador Program and the Low Barrier Shelter," said NMHHSS CEO Mary Davis. "While the temperatures are milder than they were during the recent cold snap, it's still winter and any donation of clothing that our clients can wear as an extra layer is welcome."
Seguin explained the partners have chosen to support local causes with each production run.
"We thought it would be a great idea to give back to the community," said Seguin.
Bay Apparel clothing includes branded toques, T-shirts, jogging pants and sweatshirts.
The items feature various combinations of the company crest, "Inspired Outsiders" motto and logo. The crest is a stylized drawing of sun and waves and the word "Bay Apparel." The logo consists of two crossed canoe paddles with the letters A and K, a nod to the founders' first initials. The paddles are encircled by the "Inspired Outsiders" motto, curved arrows and North Bay's latitude and longitude co-ordinates.
Find out more about Bay Apparel on Facebook (facebook.com/BayApparelClothing) and Instagram, (@bayapparel.co).
–30–
About Nipissing Mental Health Housing and Support Services
Nipissing Mental Health Housing & Support Services (NMHHSS) is a local mental health, addictions and peer support agency that specializes in support services to people who have a serious or persistent mental illness and may have other medical and/or behavioural complexities. NMHHSS works to promote wellness and empower individuals to achieve their full potential by providing collaborative supports, advocacy, and sustainable housing through a respectful and culturally sensitive approach to care. Learn more at www.nmhhss.ca.
Contact:
Carla Ammerata
Nipissing Mental Health Housing & Support Services
249.591.1775
ckemsley@nmhhss.ca